Home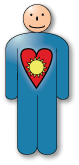 Flipside
For the design and development of products and services Flipside uses 'User Experience Design'. The foundation User Experience Design is a holistic approach that involves input from disciplines such as developers, content specialists, designers and cognitive specialists. The users and their needs are the central focus of User Experience Design. This enables you to deliver to their wishes and needs in a way, guaranteeing their satisfaction. Building on these principles Flipside has defined its methodology (see User centered Design).
By cooperating with a great variety of other service providers, Flipside is capable of offering you a myriad of products and services. These range from prototyping workshops, to a content management system, to tailor made solutions.
Flipside Services
Usability consultancy, for example interaction design, usability testing and process flow analysis/definition
Review and analysis of user-friendliness and design of web sites and other ict products
Design and construction of web sites
Flipside Products
Online reservation systems

for restaurants and providers of courses.
Flipside teams up with the authors of "Effective Prototyping for Software Makers"and "Prototyping with Excel", to organize workshops and lectures on effective prototyping for everyone employed in the software making industry.
On this site you will find information and examples of these services. But you can of course always contact us by e-mail (info@flipside-experience.nl) or phone:
+31 (0)10-2 76 06 48/+31 (0)6-41 46 51 36.