Home
> User centered Design
User Centered Design
Flipside always strives to develop and improve its methodologies to come to the optimal product. User centered Design (UCD) is the core for development of products and services (
click here for an interactive presentation
; this presentation is made with Flash, click
here
to download the Plug In). According to Flipside User centered Design is a modular approach containing four phases: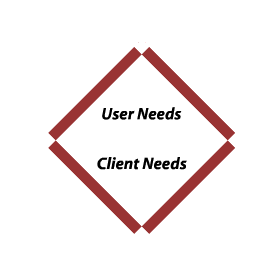 Orientation phase: In this phase the needs and targets of both the user and the client are mapped and defined.
Conceptualisation phase: In this phase the underlying guiding principles of the product are defined. Examples are the creative and cognitive principles such as the branding of the product.
Finalisation phase: In this phase the concept gets expanded and finalised. The result of this phase is the basis for construction.
Implementation phase: The construction phase, the product gets built, tested, refined and finally launched.
Within these phases there are many activities possible (such as usability testing, task analysis, concept creation). As stated above UCD is a modular approach. Flipside evaluates per project which phases/ activities are required. For more, check out the
User centered Design Toolkit
.